Taaply Unveils "Smart Sticker" for Lost Items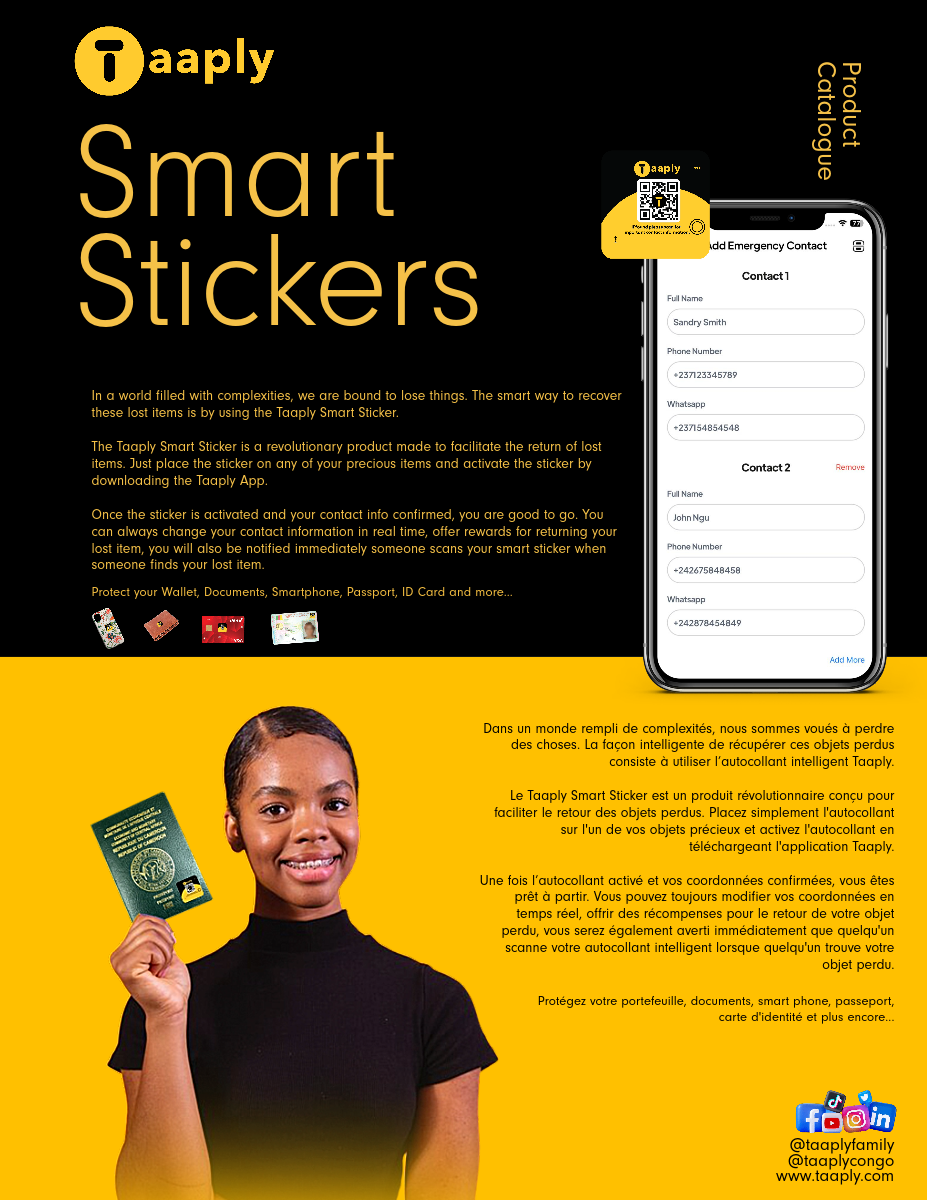 Douala, Cameroon — 19/9/2023 — Taaply, a leading innovator in technology solutions, is thrilled to introduce its groundbreaking "Smart Sticker" designed to provide unmatched security and convenience for personal items.
Taaply's Smart Sticker is a game-changing innovation that transforms the way we protect and recover our belongings. With a simple QR code scan, users can instantly contact their designated emergency contacts in case of loss or emergency, ensuring that valuable items are returned promptly and providing peace of mind like never before.
Key Features of Taaply's Lost Item Smart Sticker:
QR Code Technology: Each Smart Sticker is equipped with a unique QR code linked to the user's emergency contact information. When scanned by a Good Samaritan who finds a lost item, it instantly connects to the owner's designated contacts.
Seamless Contact: In the event of a lost item, the finder can easily contact the owner's emergency contacts via phone or email, ensuring a swift and safe return.
Customizable Profile: Users can personalize their Smart Sticker profiles with essential information such as name, emergency contacts, and additional details about the item, making it easy for finders to get in touch. The information can also be updated at anytime via the Taaply App.
Comprehensive Security: Taaply's Smart Sticker helps protect valuable belongings such as wallets, keys, laptops, passports, smartphones and more. It adds an additional layer of security to prevent permanent loss.
Peace of Mind: Whether you're traveling, at a busy event, or just going about your daily life, Taaply's Smart Sticker provides peace of mind by significantly increasing the chances of recovering lost items.
Taaply's CEO, Mr. Lekel Asonganyi, shared their enthusiasm for this innovation, stating, "We are thrilled to introduce a solution that adds an extra layer of security to our daily lives. With the Smart Sticker, we aim to alleviate the stress and inconvenience of losing important items while promoting a sense of community and trust among users."
Taaply's Lost Item Smart Sticker extends the company's commitment to delivering transformative solutions that enhance safety, security, and connectivity in various aspects of life.
For more information about Taaply's Smart Sticker for Lost Items and to explore how it can safeguard your valuables, please visit www.taaply.com. Stay updated with Taaply's latest news and developments by following us on @taaplyfamily.
About Taaply: Taaply is a forward-thinking technology company dedicated to redefining everyday experiences through innovative solutions. With a focus on enhancing safety, security, and convenience, Taaply aims to simplify and enrich the lives of its users.
Media Contact: Taaply Support Team, support@taaply.com +237 657546330