Taaply to Showcase at GITEX Africa May 2023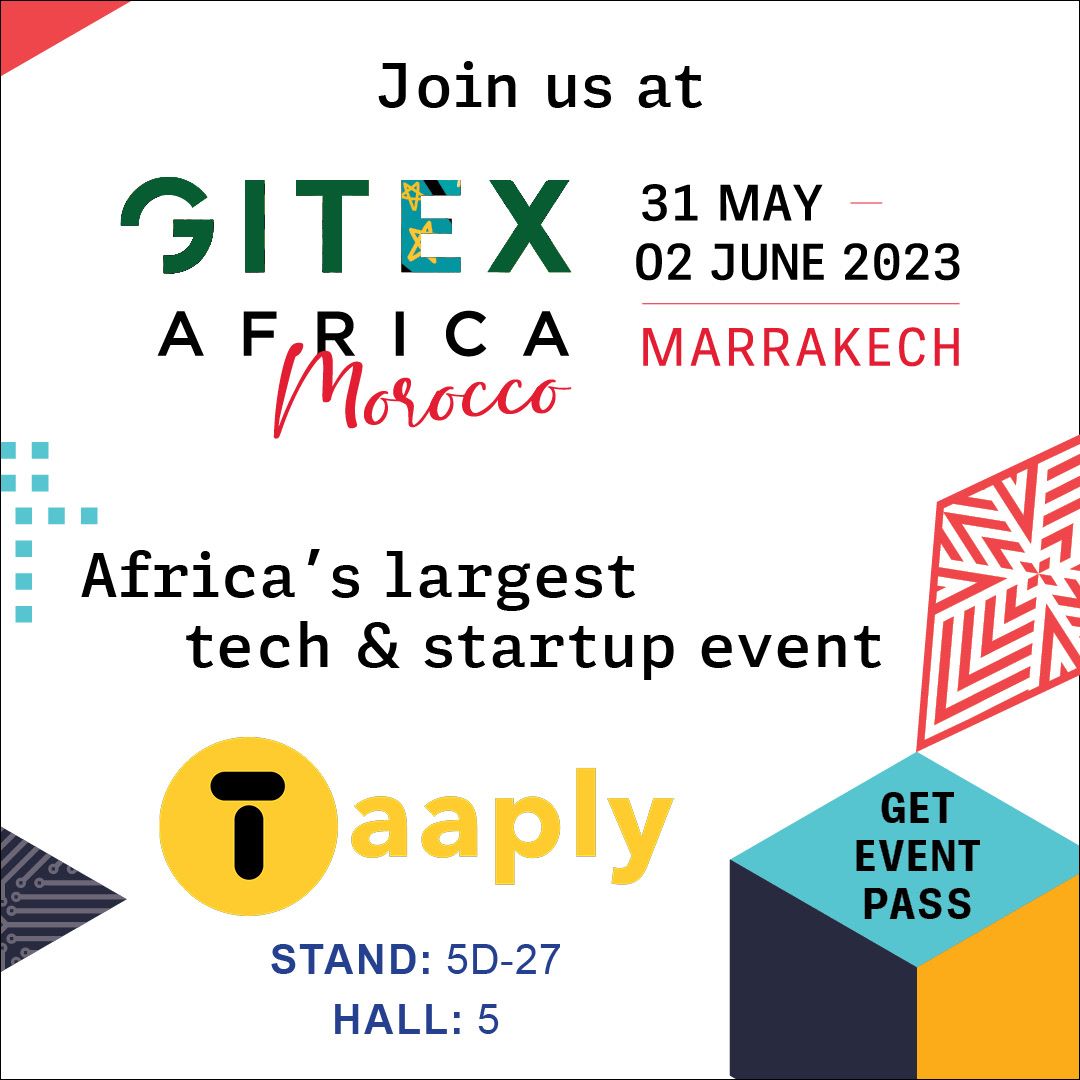 [Edinburg TX, USA May 30, 2023] – Taaply, the innovative communication platform, is thrilled to announce its participation in GITEX Africa on May 31st to June 2nd 2023 in Marrakesh, one of the continent's premier technology exhibitions. Taaply will showcase its revolutionary platform, demonstrating how it transforms communication and collaboration, empowering businesses to thrive in the digital age.
GITEX Africa Marrakesh 2023, scheduled to take place from May 31st to June 2nd, brings together industry leaders, innovators, and technology enthusiasts to explore the latest advancements in the tech industry. Taaply's presence at the event provides an excellent opportunity for attendees to experience firsthand how its unique features and capabilities can revolutionize the way individuals and businesses connect and communicate.
At the Taaply booth Hall 5, Stand 5F-31, visitors will have the opportunity to discover the platform's key features and witness its impact on enhancing productivity and fostering connected conversations. Taaply representatives will be available to demonstrate the platform's unified communication channels, real-time collaboration tools, and future AI-powered tech that streamline customer support processes. Visitors will gain insights into how Taaply's secure and customizable platform can optimize workflows and enable efficient remote teamwork.
"We are excited to participate in GITEX Africa Marrakesh 2023 and showcase Taaply's transformative capabilities," said Lekel Asonganyi, Founder & CEO of Taaply. "This event provides an ideal platform for us to engage with industry professionals, businesses, and technology enthusiasts, and demonstrate how Taaply revolutionizes communication and collaboration. We believe our innovative products and services, features and commitment to privacy and security will resonate strongly with the audience."
GITEX Africa Marrakesh 2023 offers a unique opportunity for networking, knowledge-sharing, and discovering emerging technologies. Taaply's participation underscores its commitment to driving innovation and empowering organizations with cutting-edge communication tools. The event will also serve as a platform for Taaply to forge new partnerships, explore business opportunities, and gain valuable insights into industry trends and customer needs.
Visit Taaply at Hall 5, Stand/Booth 5F-31at GITEX Africa Marrakesh 2023 to experience the future of communication. To learn more about Taaply and its powerful features, visit www.taaply.com.
About Taaply:
Taaply is a revolutionary communication and networking platform that empowers individuals and businesses to connect, collaborate, and communicate seamlessly. With its unified communication channels, real-time collaboration tools, and future AI-powered tech add-ons, Taaply streamlines workflows, enhances productivity, and fosters meaningful interactions. Taaply is committed to privacy and security, providing a customizable platform that fits the unique needs of businesses.
Media Contact:
Nina Golde
Public Relations Executive & CMO
Taaply, Inc
nina.golde@taaply.com
Phone: 832-819-4246